Got my first round offer for university just right now.
Civil Engineering at RMIT.
At first I was like
Then...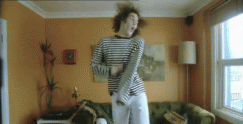 It's my second preference, which is alright because it would have taken nothing but a miracle to get my first tbh. Which is virtually the same course but has a higher score. I noticed that most people from my graduating class are doing Arts. Tried to find out what my asian friends were doing but their surnames made it incredibly hard. Do you know how many Truongs, Trans and Nguyens there are?
I tried to find out what Burkey is doing as well. Since you can only find out through surnames, he is either doing science at Melbourne or engineering at Vic uni. I'll find out soon enough, if its the former he will brag but if he is quiet I know its the latter.
Right now I am expecting some phone calls from some of my mum's gossipy friends. Geez... those people particularly dragged me out of bed when the scores were released and forced me to tell them what I got like it's their God given right to know.
Official enrolment is not until next Tuesday. I am now legit wondering what offer I got from the Queensland universities.
Tried to talking to Burkey, but he is convinced my account is hacked cause I reached out to him first.
btw my mum's not happy, though she is never happy tbh.
Current Mood:

happy